Sainsbury's recipes through time
Over the years Sainsbury's has helped and inspired customers by publishing a huge variety of recipe ideas. Although there's been far too many to cover them all on this page, here we take a look at some of the key developments.
The oldest recipes in our collection are found in newspaper advertisements. These ones from 1914 may not be to everyone's taste today, but they show an underlying idea that has not changed much in more than a century: Sainsbury's trying to appeal to customers who, then as now, aren't always sure what they want to eat and fancy something a bit different.
Price lists, which were sent to customers or picked up in branches, were another early means of delivering menu suggestions.
As well as ideas for new meals, the first recipe leaflets also give details about ingredients which some people would not have been familiar with at the time. This is another theme reoccurring throughout history.
In the 1950s and 1960s diets and lifestyles were changing rapidly and this can be seen in the Archive's collection. Sainsbury's popularised chicken dinners as a cheap and simple midweek meal.
Customers who bought the monthly magazine Family Circle in Sainsbury's found 'Meal of the Month' inserts with eye-catching illustrations.
The 1970s saw stores selling sets of recipe cards explaining how to prepare elaborate three course meals for dinner parties. The first 'Sainsbury Cookbooks' soon followed.
Sainsbury's also produced booklets for those just cooking for themselves.
Food packaging became yet another source of inspiration.
In the 1980s and 1990s the range of recipe cards and leaflets given out for free in stores greatly expanded.
Numerous 'Sainsbury's Guide' leaflets were produced, each focussing on a particular food and the many different ways it could be used.
The 'Simply Take…' recipe cards with the slogan 'Everyone's favourite ingredient' tied in with TV advertisements narrated by celebrities including Catherine Zeta-Jones and Phillip Schofield.
A large selection of 'Cook and keep' cards and leaflets often presented 'Quick and easy' ideas which still involved a wide variety of ingredients.
Customers who wished to eat more healthily could also find several booklets to assist them. These combined recipes with advice from nutritionists.
By the start of the new millennium many recipes were accessible on the Sainsbury's website, but printed material remained popular.
The 'make it!' series noted the cost per serving of each recipe, which had not generally been included in previous material.
Ingredient prices were the key feature of the 'Feed Your Family for a Fiver' cards. These were available from 2008-2010.
The introduction of the 'live well for less' slogan was accompanied, like previous advertising campaigns, with a whole new set of recipe cards.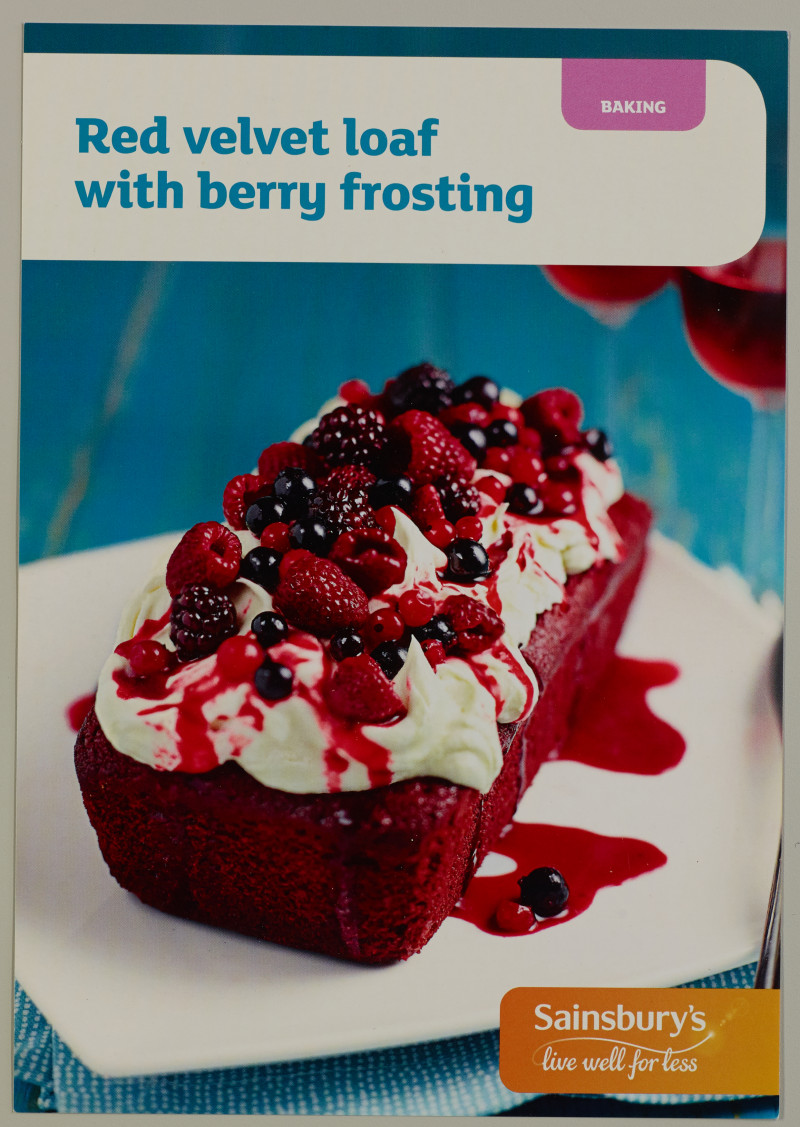 In recent years recipe leaflets have continued to encourage healthy eating and also suggest ways to reduce food waste.
You can see more recipes by searching our catalogue or reading our stories about Christmas and Halloween food. If you have a question about a recipe you can't find, or think you have an item that is missing from our collection, you can contact us at sainsburyarchive@museumoflondon.org.uk.
Related memories
Do you have an image that relates to this record? Add your personal
touch. If you worked for Sainsbury's, please provide brief career details
and include dates where appropriate.